Event Phone: +351 966 893 276
ICCS 2023 Conference


July 3, 2023 - July 5, 2023




08:00 - 19:00

ICCS 2023 Conference Dinner


July 4, 2023




19:00 - 22:30
The International Conference on Computational Science – ICCS is going to Prague, Czechia, for its 23rd edition.
Standing on the Vltava river, Prague is a political, cultural , and economic hub of central Europe. The host for this year's edition, the Czech Technical University in Prague (CTU), more specifically the Faculty of Nuclear Sciences and Physical Engineering, is located along the river bank in Prague's beautiful Old Town (Staré Mesto). CTU is one of the largest and oldest technical universities in Europe, and the highest-rated in the group of Czech technical universities
ICCS is an annual conference that brings together researchers and scientists from mathematics and computer science as basic computing disciplines, as well as from other various application areas, who are pioneering computational methods in sciences such as physics, chemistry, life sciences, and engineering, as well as in arts and humanitarian fields, to discuss problems and solutions in the area, identify new issues, and shape future directions for research.
Since its inception in 2001, ICCS has attracted increasingly higher quality and numbers of attendees and papers. Average attendance each year is about 350 participants. The proceedings series have become a major intellectual resource for computational science researchers and serve to both define and advance the state of the art of the field.
The proceedings are published by Springer in the Lecture Notes in Computer Science (LNCS) series and indexed by Scopus, EI Engineering Index, Thomson Reuters Conference Proceedings Citation Index (included in ISI Web of Science), and several other indexing services.
As the conference theme this year is "Computation at the Cutting Edge of Science", papers highlighting the role of Computational Science in assisting multidisciplinary research will be particularly welcomed.
ICCS is an A-rank conference in the CORE classification.
We look forward to meeting you in Prague!
Venue Phone: +420 770 127 012
Venue Website: https://www.fjfi.cvut.cz/en/
Address:
Czech Technical University in Prague - Faculty of Nuclear Sciences and Physical Engineering
, Břehová 78/7,
Prague
,
115 19
,
Czech Republic
Description: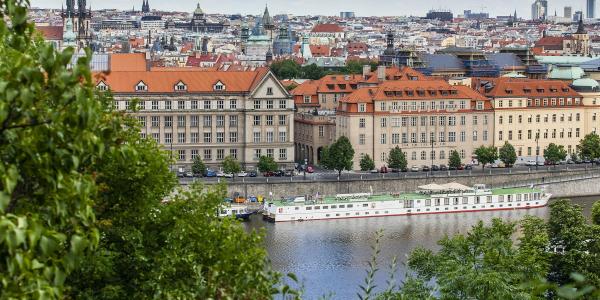 The 23rd edition of ICCS will be hosted at the Czech Technical University in Prague, at the Faculty of Nuclear Sciences and Physical Engineering, located along the river bank in Prague's beautiful Old Town (Staré Mesto).
The Czech Technical University in Prague (CTU) is one of the largest and oldest technical universities in Europe, and the highest-rated in the group of Czech technical universities.
CTU has currently eight faculties: Civil Engineering, Mechanical Engineering, Electrical Engineering, Nuclear Science and Physical Engineering, Architecture, Transportation Sciences, Biomedical Engineering, and Information Technology. CTU offers 350 accredited study programmes, 100 of which are taught in a foreign language. Close to 19,000 students are studying at CTU in academic year 2022/2023.
The Faculty of Nuclear Sciences and Physical Engineering is the only one in the Czech Republic to offer studies in a broad range of fields related to Nuclear Physics and Engineering. Crucial to this possibility is the availability of both fission (CTU's own VR-1 reactor) and fusion (Golem Tokamak) reactors.
Established by eminent Czech mathematicians and physicists (Běhounek, Kvasil, Majer, Němec, Petržílka, Šimáně, Votruba), the Faculty's tradition has always been founded on the basis of mathematics and physics, and on a deep understanding of the links between them. Today it hosts several cutting-edge research projects and collaborates with a number of international research centers (CERN, ITER, BNL-STAR, ELI).